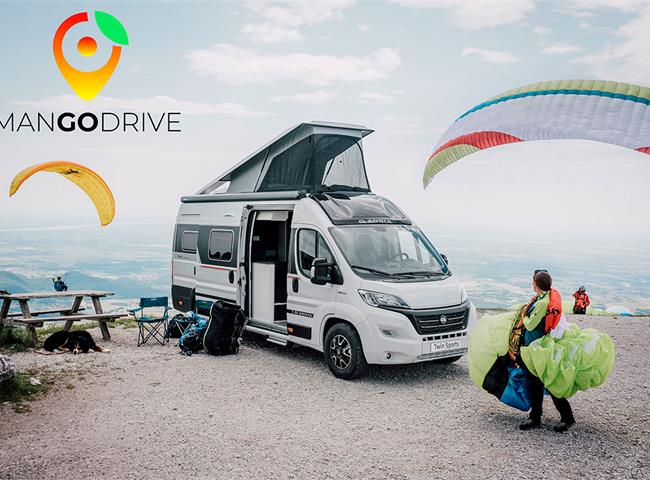 We launched Mango Drive - a platform for sharing caravans and motorhomes
 
Do you crave adventure and unlimited travel options but don't want to invest in an expensive vehicle? Or vice versa. Have you bought an Adria campervan or motorhome but don't have time for it all year round? Mango Drive is here for you, offering Adria motorhome and caravan hire direct from the owner. 
Mango Drive is Airbnb on wheels
 
Mango Drive is a unique web platform that connects private owners of Adria motorhomes and caravans with those who want to explore the world freely and comfortably. It works on the Airbnb principle - caravan or motorhome owners rent out their vehicles to verified registered users for a financial reward.  
Rent a caravan or motorhome

Are you tempted to explore the world freely and comfortably in a caravan or motorhome, but don't want to invest in an expensive vehicle? Do you want to see if this type of holiday would appeal to you? You don't go on holiday often enough to make buying a car worthwhile. Mango Drive is the answer to all the questions. On this platform, you can easily rent a caravan or motorhome and return it to the owner after your holiday. You enjoy your holiday and save the hassle of owning a car all year round. 
Let your car make money
 
Mango Drive is there for all camping enthusiasts, Adria caravan owners but who don't have time to spend on their motorhomes all year round. The Mango Drive platform makes it easy for Adria owners to lease their vehicles. Simply sign up to Mango Drive and when you're not travelling, you can lend your car to other verified travellers. We only accept Adria cars in great condition for registration. 
Do you have any questions? Visit the Mango Drive website. If you have further questions, please do not hesitate to contact us.
ADRIA
https://www.adriakaravany.cz
ADRIA

/images/logo.png