Adora
So that nothing is missing on the way
The new generation of the Adora model comes full of improvements. It is a trailer with perfect aerodynamics, striking shape and a very popular large panoramic window. Now it has even bigger windows and cleverly designed storage spaces. The kitchen, bathroom, bedroom and living area have been significantly modernized.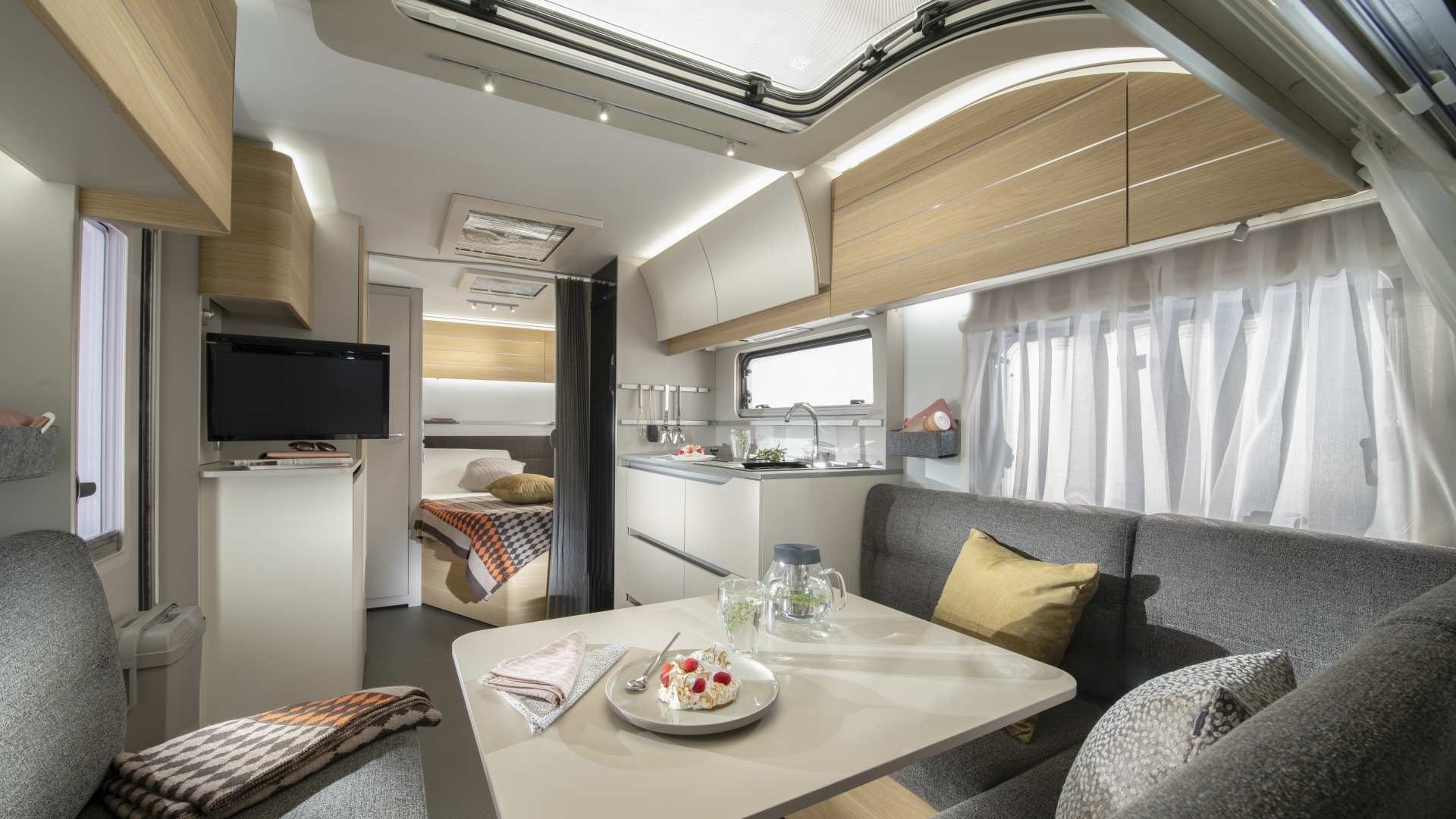 | | |
| --- | --- |
| Number of beds | 4 - 7 |
| Total length (mm) | 5385 — 8182 |
| Total length including drawbar (mm) | 6753 — 9512 |
| Total width (mm) | 2299 — 2460 |
| Weight (MRO, kg) | 1270/1310 — 2015-2060 |
| Total heigth (mm) | 2610 |
Layouts
View individual layouts

Adora
472 UP
4

Adora
502 UL
5

Adora
522 UP
4

Adora
542 UL
5

Adora
572 UT
4

Adora
573 PT
7

Adora
593 UK
7

Adora
593 UP
4

Adora
613 HT
4

Adora
613 PK
7

Adora
613 UL
5

Adora
613 UT
4

Adora
673 PK
7

Adora
753 UK
7
Contemporary living spaces
The Adora's inspired living spaces means everything is designed around the way you want to live.
Living room
The large panoramic window means 'atrium-style' living, with natural light, controllable shading and ventilation.
Living room beneath large panoramic window.
Dinette with comfortable seating.
Easy additional bed set up.
A durable, light weight put away table.
Head rests for extra comfort.
Kitchen
The new home-style kitchen design is inspired by the best home kitchens.
Elegant concave cupboards with more volume.
High loading capacity drawers.
Multifunctional hanging profile.
High quality appliances.
Bathroom
Our new Ergo bathroom, features a new fold-away sink, extra space, new lighting and plenty of storage.
Improved fold-away system.
Efficient draining and serviceability.
Storage for personal things.
Controllable lighting.
Bedroom
New bedroom designs, with all formats of bed, for a great night's sleep.
Higher beds.
Luxury Evopore ® mattress.
Controllable lighting.
Storage for personal things.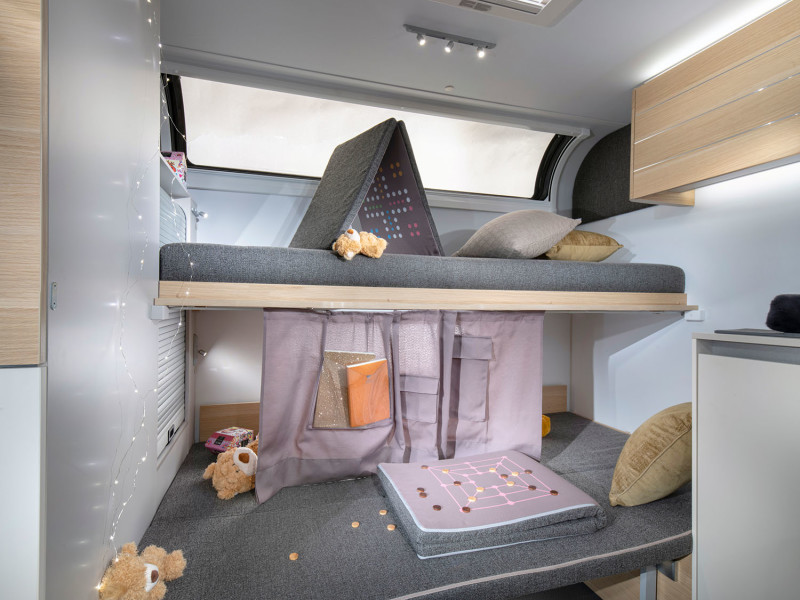 New Adora 613 PK
Adora 613 PK our new layout for families, for 2 adults and 1-3 kids, all with 2m beds. Brilliant for guests too thanks to the Adria Exclusive Design® additional rear living accommodation, which is also great day rest or play space under the new rear panoramic window, includes 2 TV points.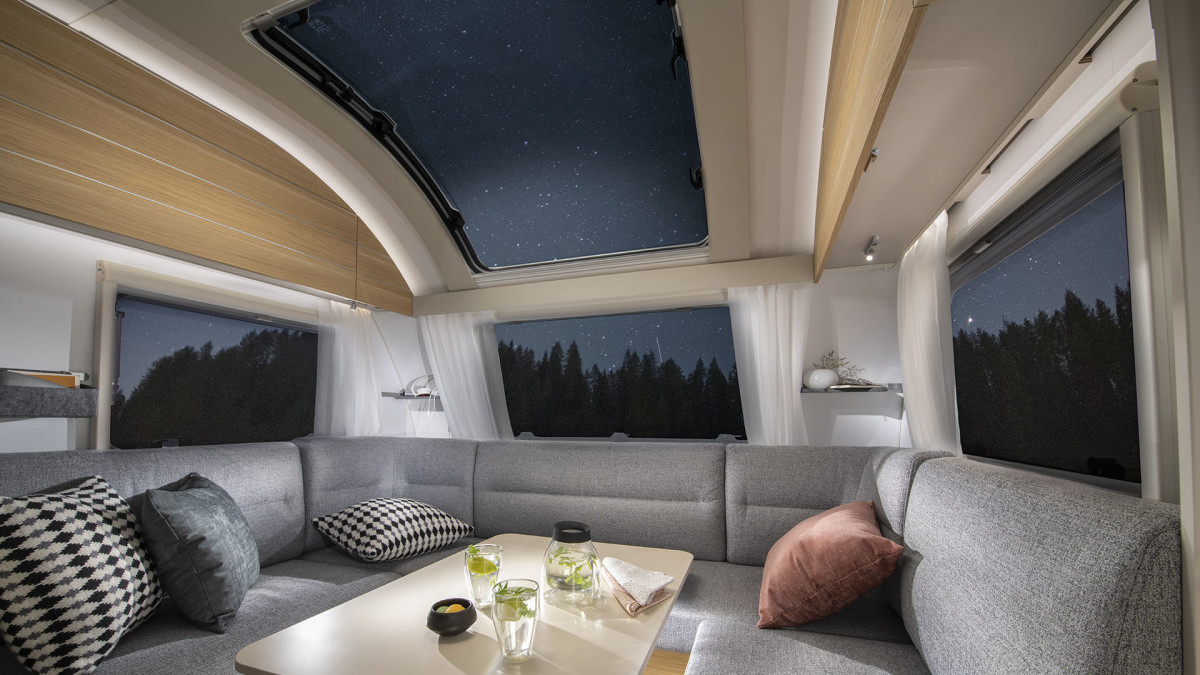 Inspirational design
Our designers came from the experience with the Astella trailer and breathed fresh shapes into the Adora design.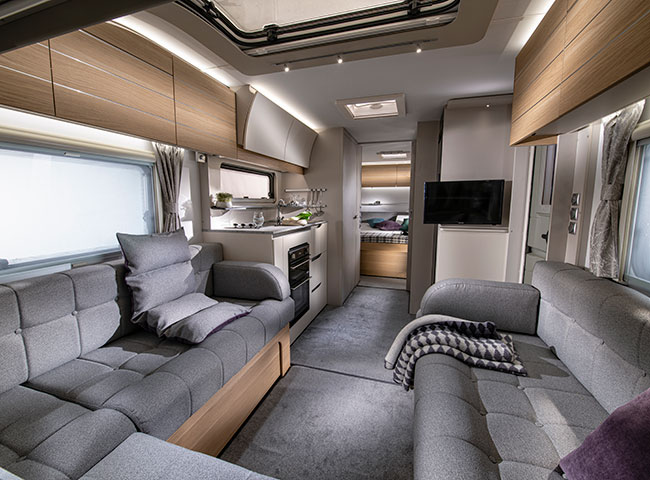 Exceptional accessories
Our designers have tried to improve all the tweaks of the Adora trailer. And it worked.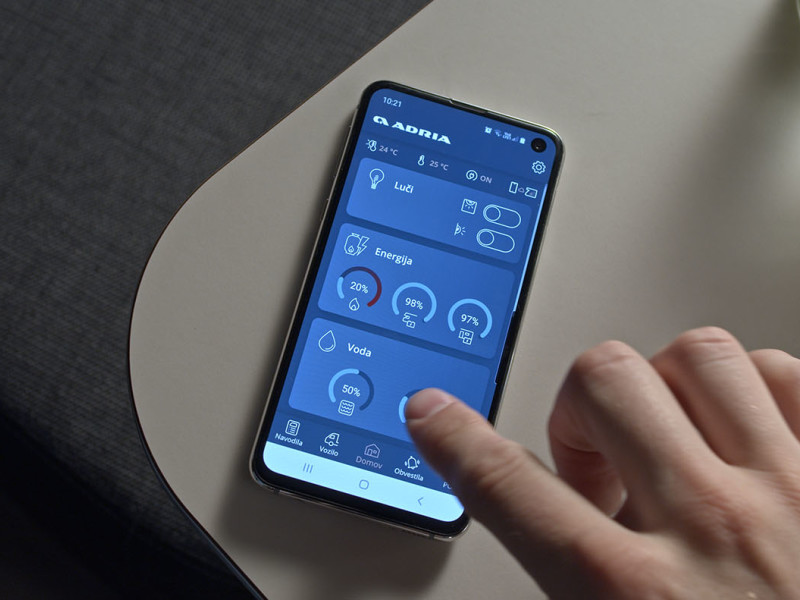 Storage
More storage than you'd think possible. External gas bottle storage. Inside, large volume concave design cupboards. Large wardrobe design and multipurpose kitchen and bathroom storage, including innovative removable storage solutions.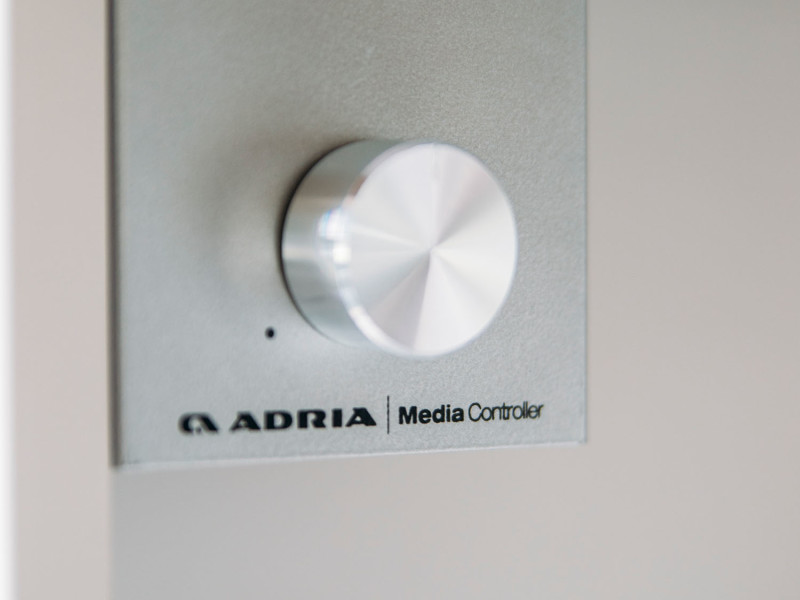 Multimedia
Enjoy more connected living, with digital control panel and a range of multimedia solutions including high quality sound system with hidden speakers, Bluetooth ® amplifier, TV point and holder, and multiple USB ports.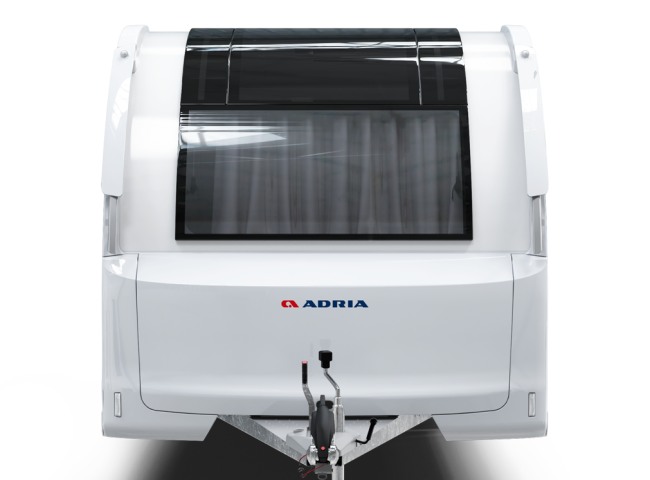 New panoramic window
The new design brings more light and makes your stay in the space more pleasant. Includes integrated shielding and ventilation.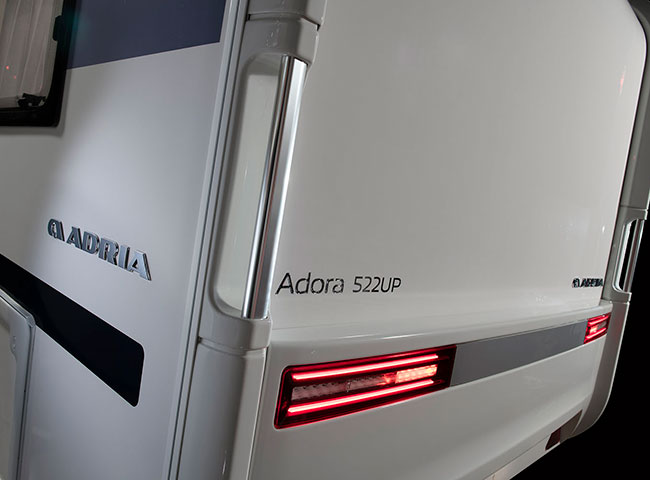 New led lights
The new rear wall design with multifunctional LED lighting improves the rear view.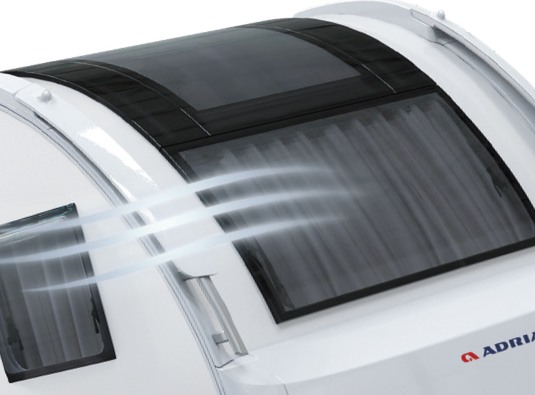 Accessories for better aerodynamics
This innovative feature helps improve the aerodynamics of the trailer and also looks stylish.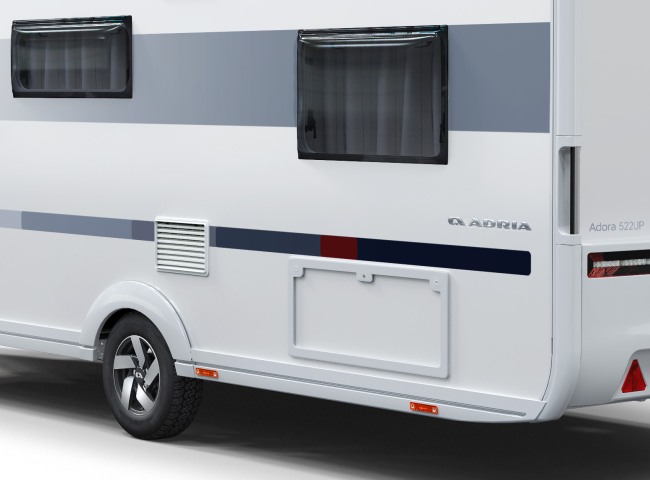 New graphic design of the exterior
Adora received a new graphic design with typical lines of the Adria company.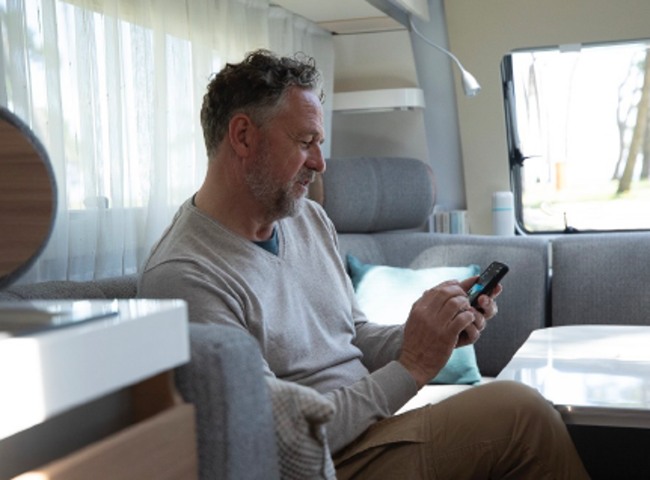 New Adria MACH
Features Adria MACH smart control mobile application.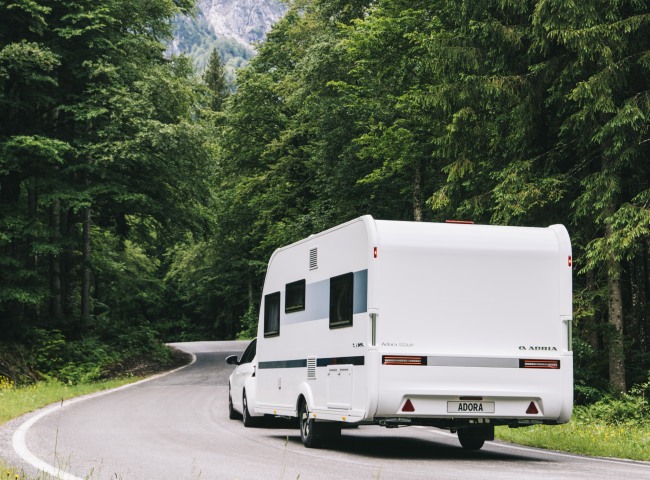 Performance chassis
AL-KO chassis with AKS stabiliser coupling and optional ATC trailer control system. Lightweight Vario X chassis on selected models.