Coral
A new generation of travel is coming. With the open sky overhead.
You will now be able to look at distant horizons with the attractive Adria SunRoof® roof window. When you add the traditional comfort and practical equipment, you won't even want to get out of the Coral model.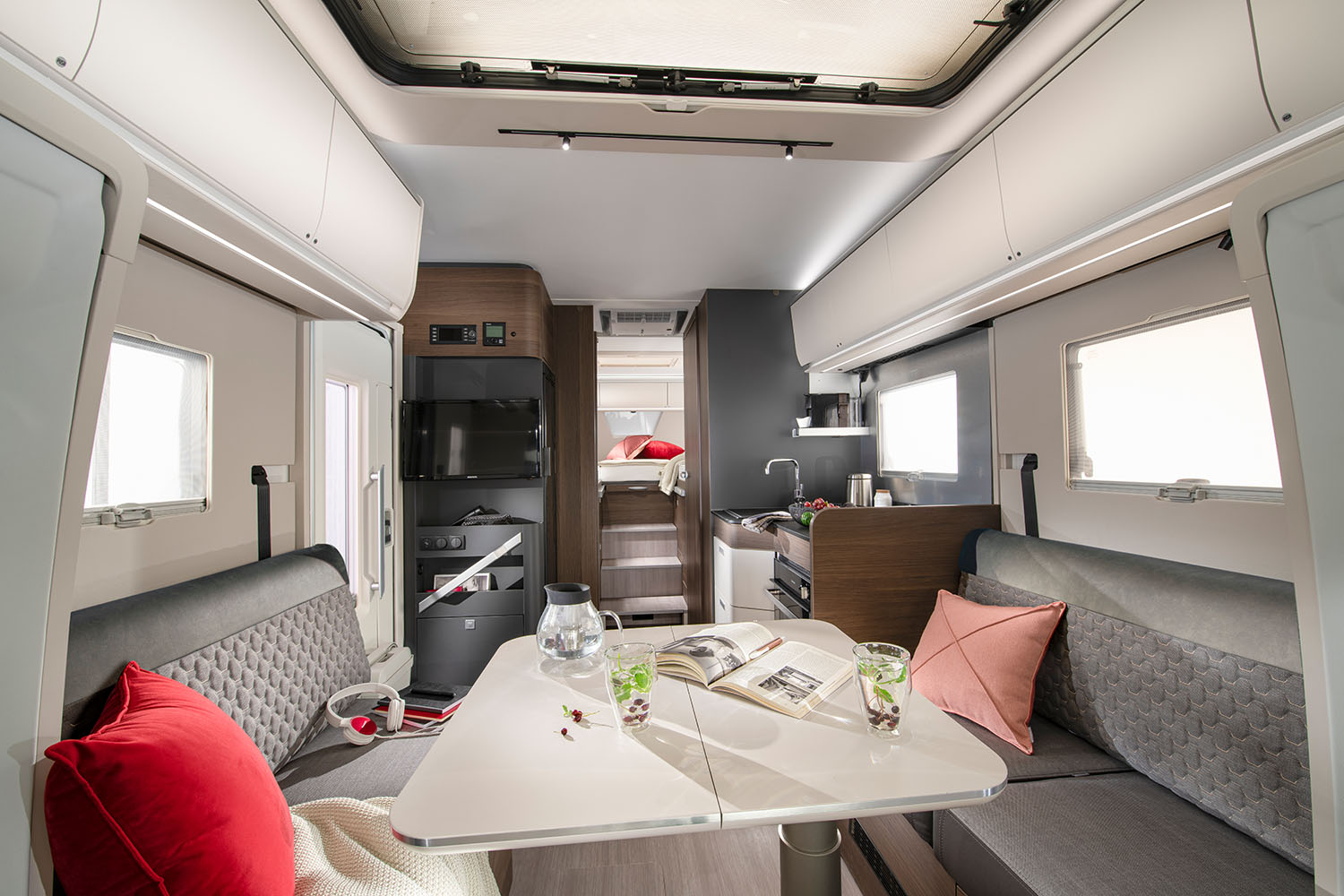 | | |
| --- | --- |
| Number of seats | 4 - 5 |
| Number of beds | 3 - 4 |
| Total length (mm) | 7485 |
| Total width (mm) | 2299 |
| Weight (MRO, kg) | 2990-3050 — 3060-3000 |
| Total height (mm) | 2905 |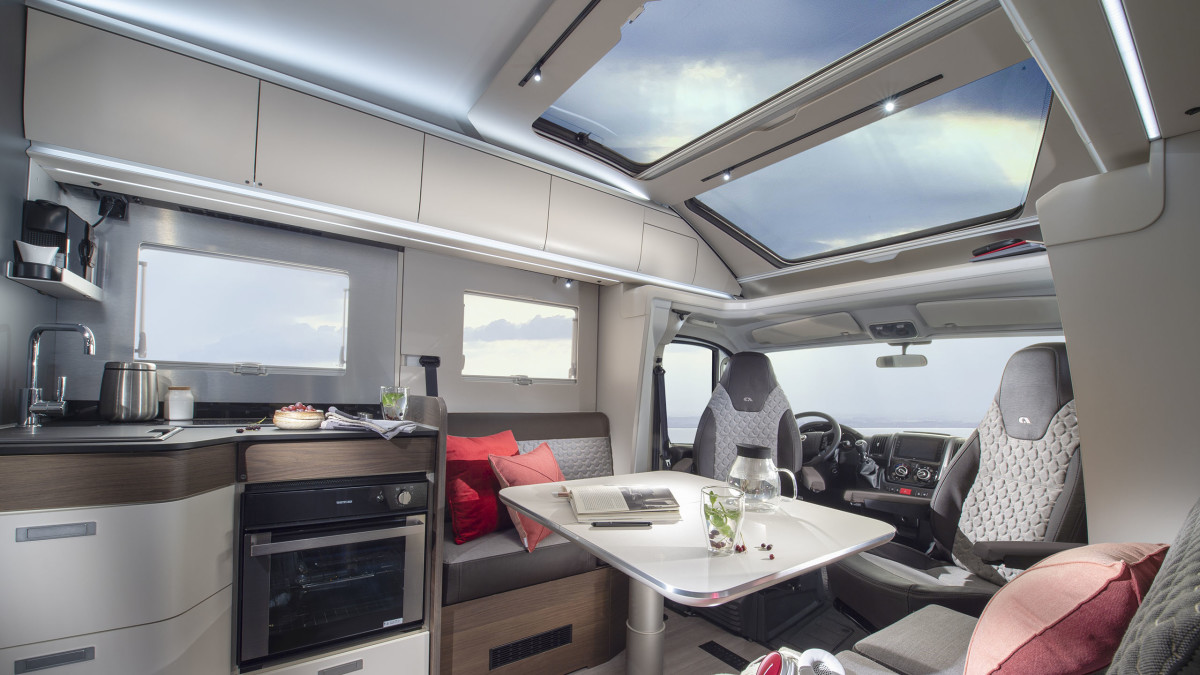 Layouts
View individual layouts

Coral Supreme
670 SL
5 4

Coral Supreme
670 SLT
5 3

Coral Supreme
670 DL
4 4

Coral Supreme
670 DC
4 3

Coral Plus
670 SL
5 4

Coral Plus
670 SC
5 3

Coral Plus
670 SLT
5 3

Coral Plus
670 DL
4 4

Coral Plus
670 DC
4 3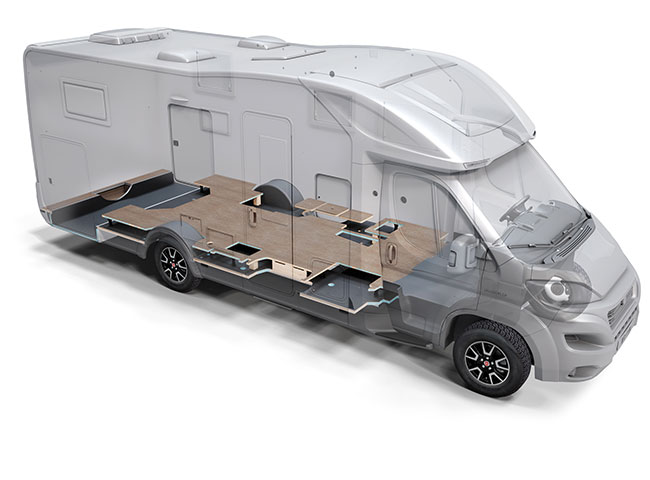 New double floor
Double floor provides a single level floor throughout and 13 cm underfloor space. For integrated utilities, insulation and extra storage.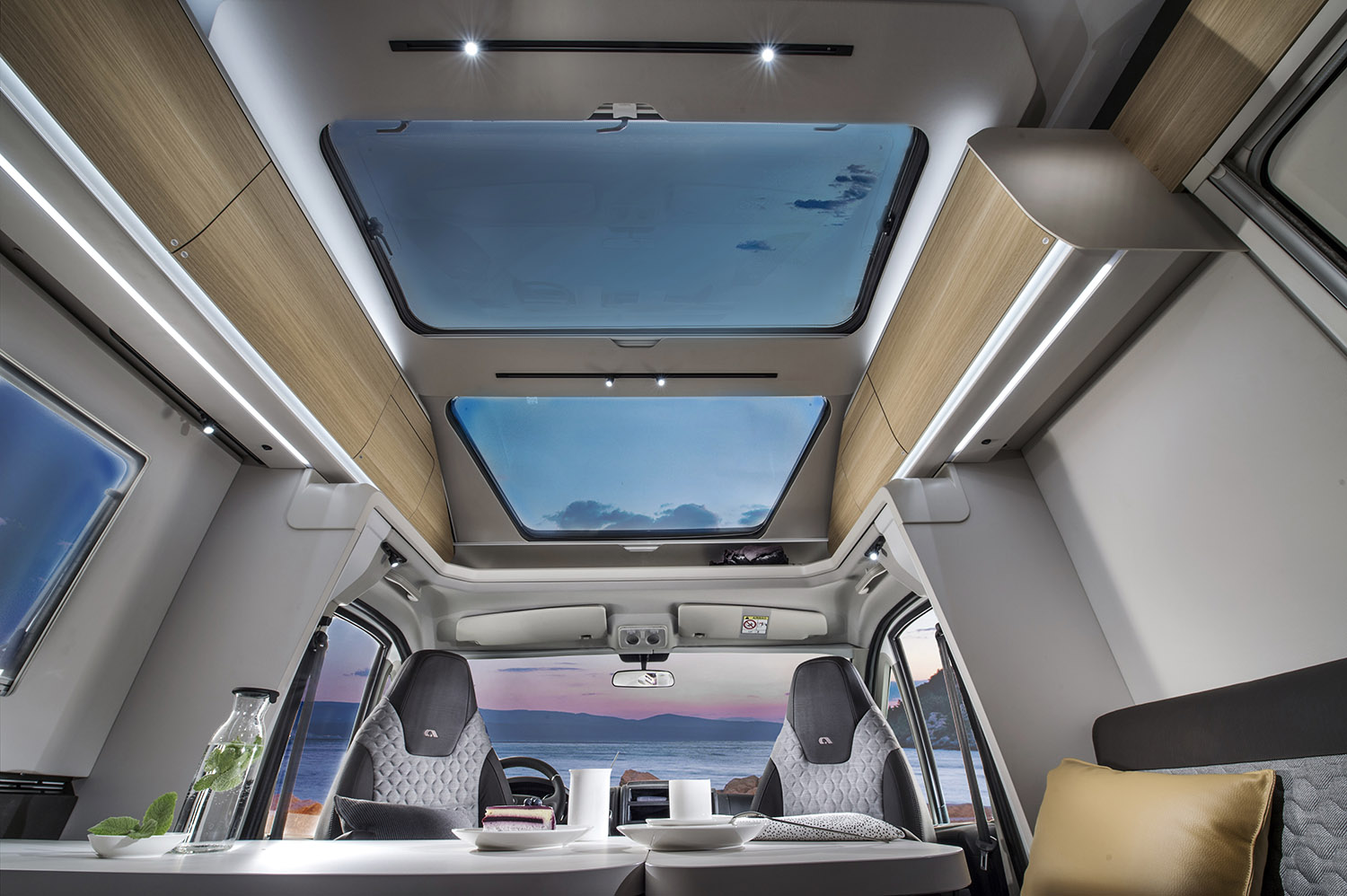 Adria exclusive design SunRoof®
New Adria Exclusive Design SunRoof ® and large panoramic window, for 'atrium-style' living, which gives more natural light and adds the feeling of space, with shading and ventilation.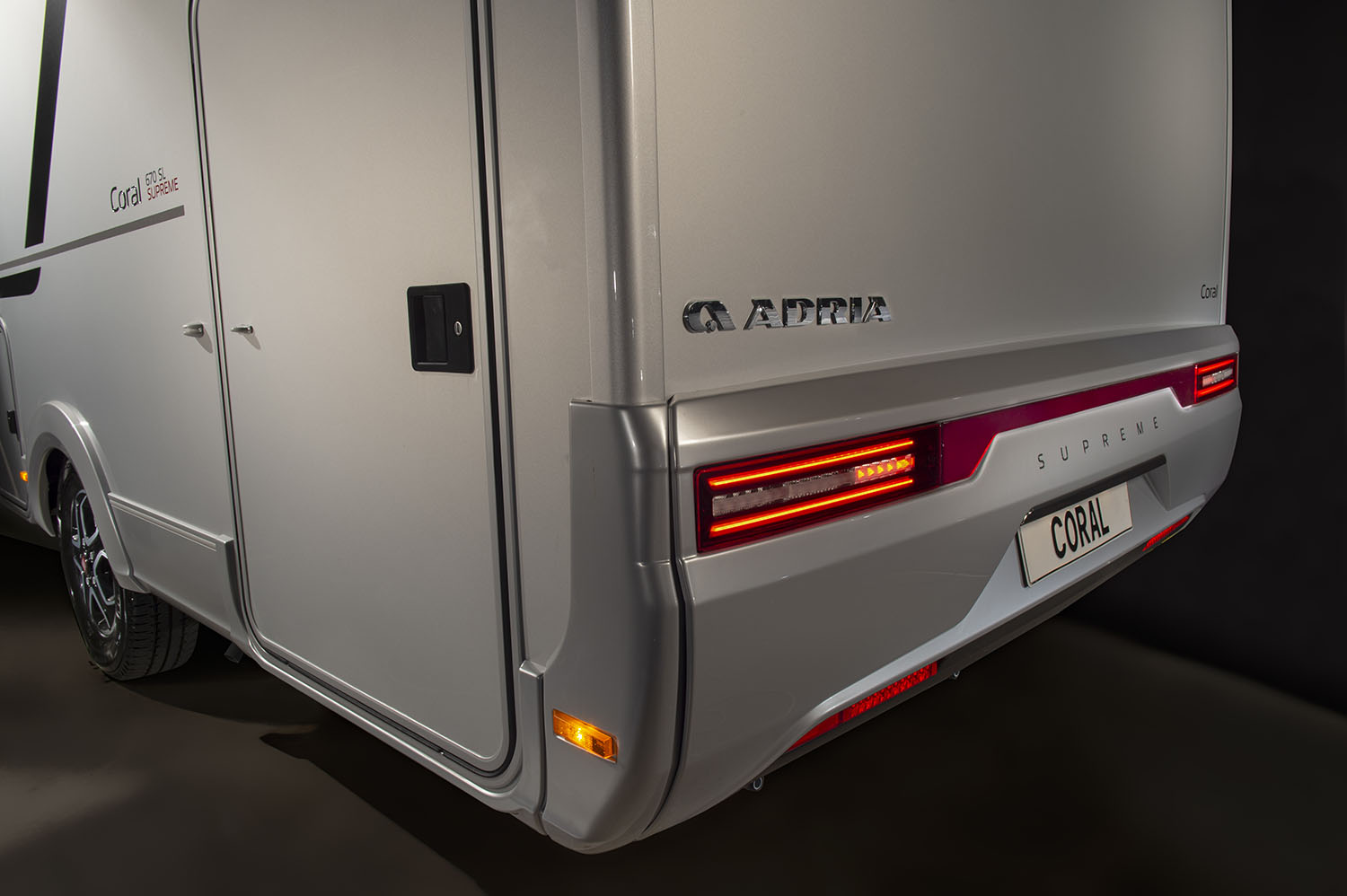 New LED lights
New design full LED multifunctional rear lights for automotive style and functionality.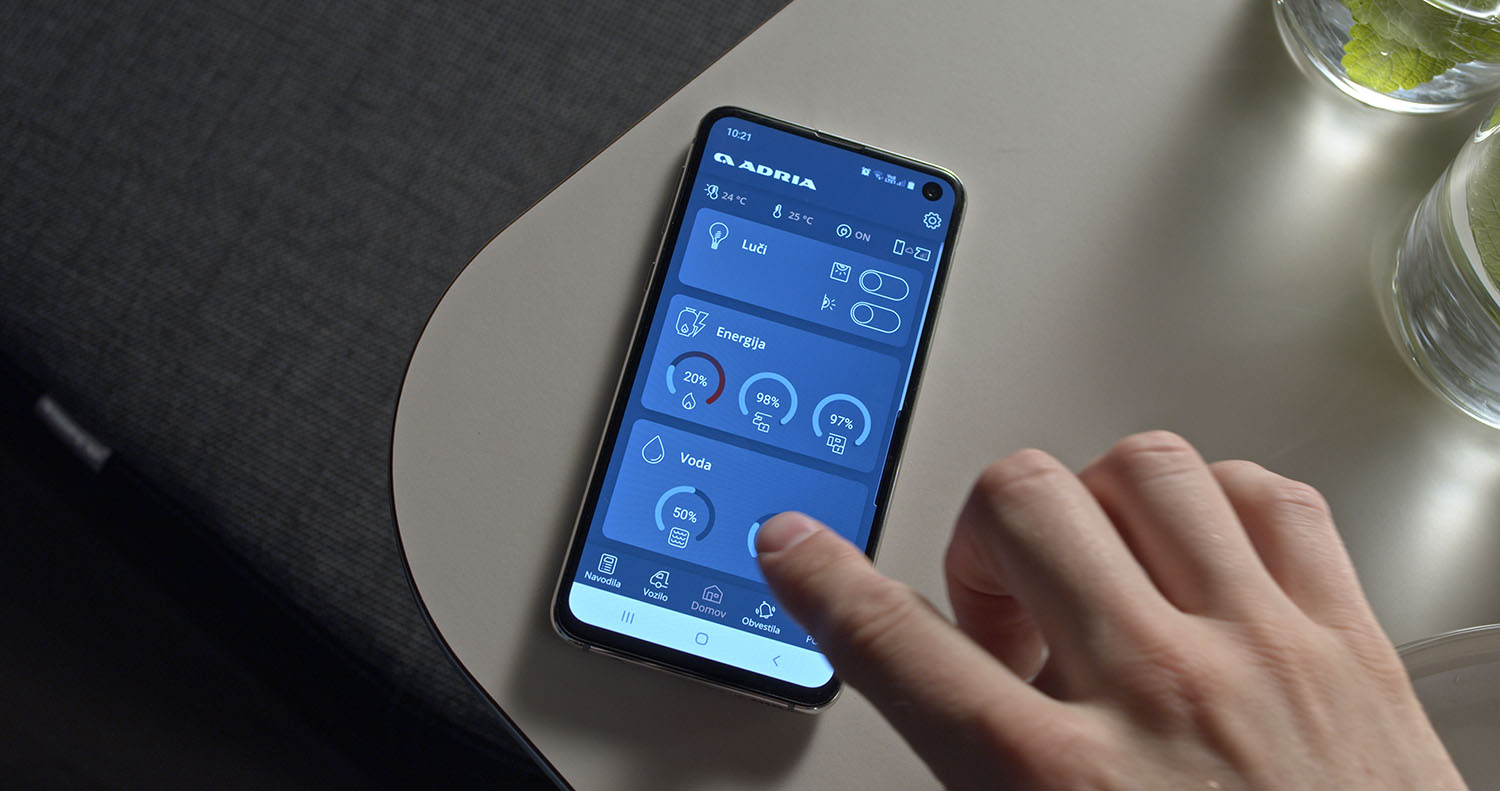 New Adria MACH
Smart control mobile application is available as an option. MACH controls key functions, monitor utilities, gives access to user manuals and provides navigation data and Mobile Office functions.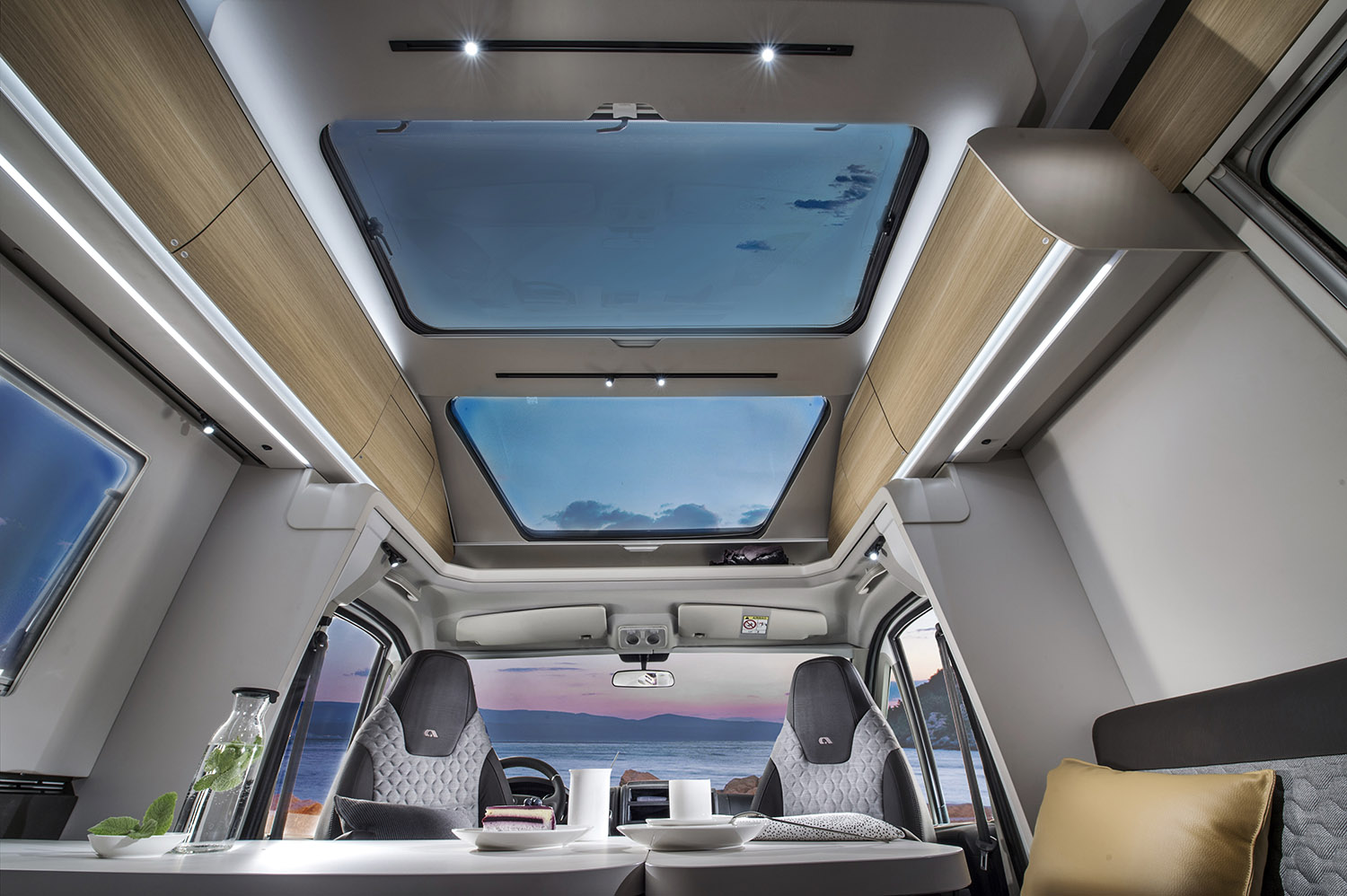 Inspirational design
Proven solutions now newly improved. Newly renovated garage with two entrances, electrical socket and LED lights and, for example, a wider entrance with an integrated container.
Contemporary living spaces
Everything is designed around the way you want to live.
Living room
All new design living room with low separation wall and new multi-media wall for entertainment.
Adria Design Exclusive SunRoof®and panoramic window.
Home-style dinette with comfortable seating.
Foldable and rotatable table.
Cosy sofa-style seating.
New controllable lighting with LED and spot lights.
New sound system with hidden speakers.
Organized storage with dedicated spaces for personal items.
Heating by Truma and Alde.
Kitchen
The new S line kitchen, offers more worktop space, more storage and the best appliances.
Three burner stove and optional oven.
Slim solid laminate FENIX NTM ® worktop.
Large storage, soft-closing drawers.
142l slim absorption fridge.
Optional oven and Nespresso ® system coffee machine.
Bedroom
New rear bedroom designs, with all formats of bed, for a great night's sleep. Large rear bedroom in a choice of bed formats
Luxe mattresses for great comfort.
Underbed and overhead storage.
Bedside cupboards.
Spotlights.
USB ports.
Bathroom
New bathroom design, completely restyled for more space and comfort.
Large spacious bathroom.
Mirror with spotlights.
Storage for personal items.
New shower with elegant shower wall and ventilation.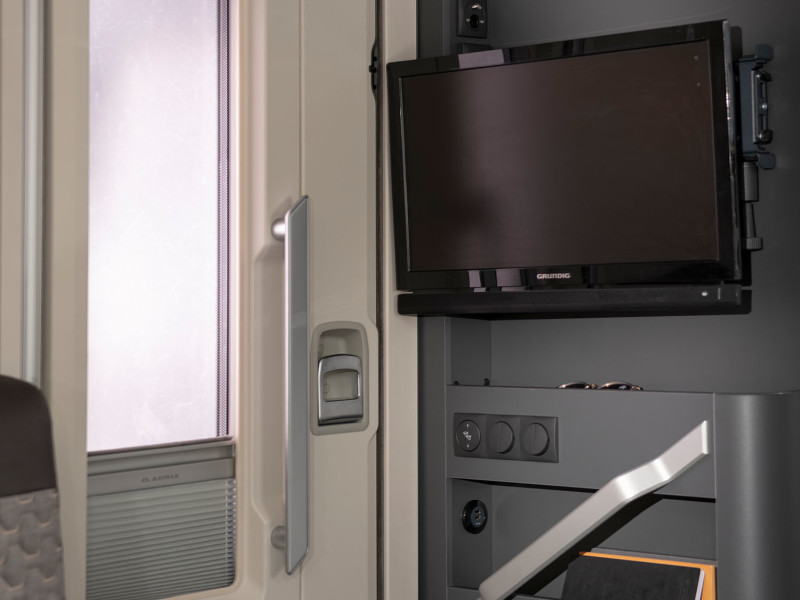 Multimedia
New multi-media wall, with TV holder (up to 32''), USB port and phone charging surface. New sound system with exciter and subwoofer, hidden speakers and Bluetooth®. New digital controller, easy to use and controls all main living functions.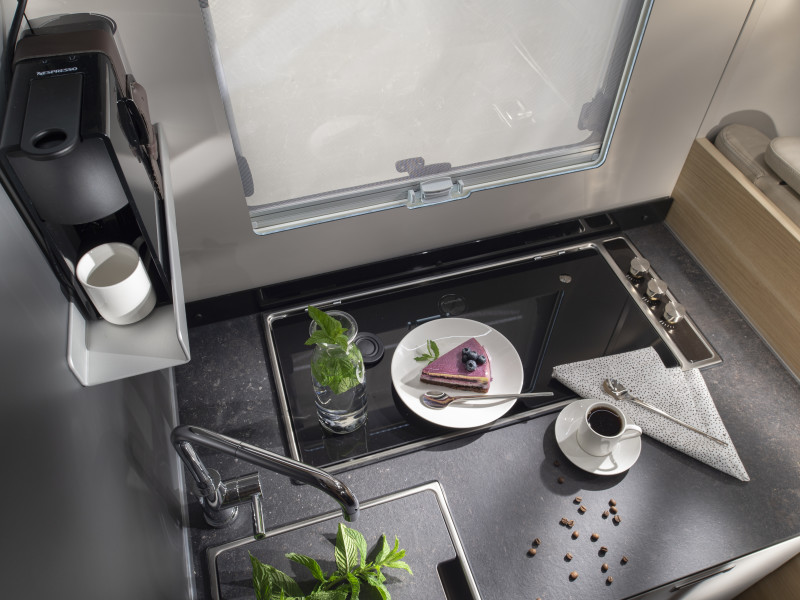 Coffee machine
Nespresso® system coffee machine for perfect coffee every time.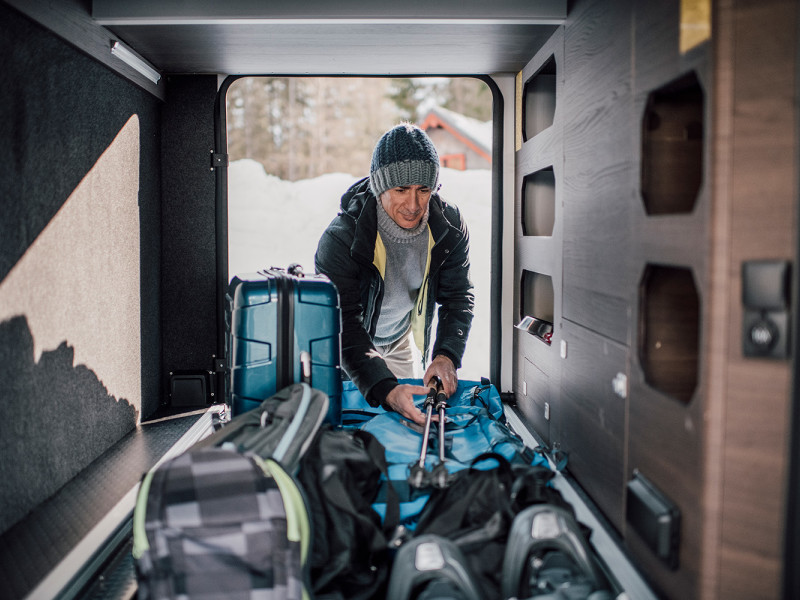 Storage
Convex overhead cupboards with illuminated profile and easy to open mechanism. Large wardrobe design and kitchen with large capacity drawers and utensils track. Large garage 120 cm height (model dependent), two doors, 220v | 12v connectors and LED lights. Habitation door with quiet, smooth operation and multi-functional storage container.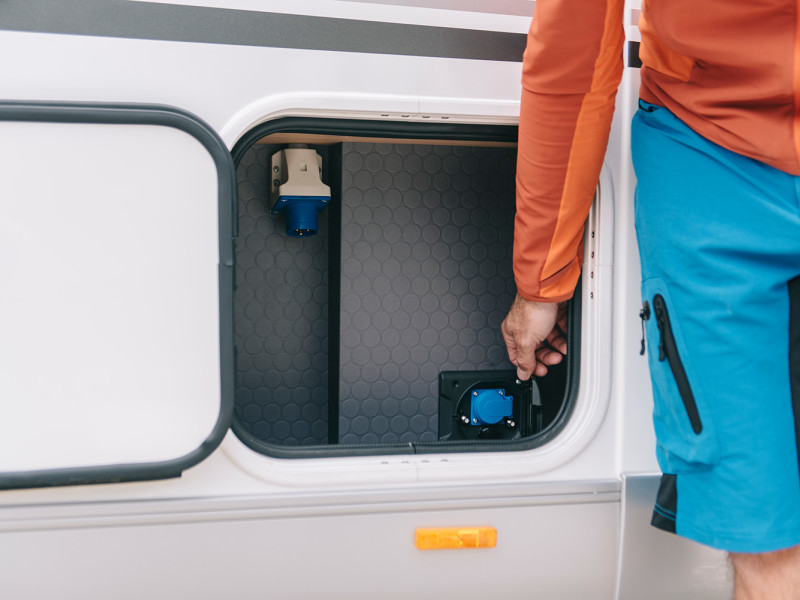 Service area
New central service area for easy utility connections and the newly located and insulated fresh water tank, with 115l volume capacity.